Sorry, it's been a month since my last post.  I've been meaning to update new happenings and artwork for a while.  I'll try to be brief and just bullet point the latest news from the past month….
Boston's Children's Hospital
This past week I finished up a large 24×24 piece that will hang at Boston's Children's Hospital!  Hoping to get it shipped out this coming week to them.
Art Revolution Taipei International Juried Art Show
Art Revolution Taipei was a success this past May as all 13 pieces sold at the show.  Shortly after the show ended, I received my 3rd invitation to come back for  2014.  I gladly accepted and will be working on 20 new pieces the rest of this year.
Atlanta Area Art Festival
I said I was not going to do any outdoor shows for 2013, but I decided to accept the invitation to the Johns Creek Fest which is happening this October.  Several people who came out to Acworth and Dunwoody in 2012 had asked why I didn't have the art blocks…..don't worry, I'll have the art blocks this year at Johns Creek.  I've already started working on them this summer and hope to have both the 3.5″ size, the 7.25″ size, as well as some landscape sized ones for a bookshelf.  Due to the distance, it is always possible that something may keep me away (aka hurricane season).  I'll be sure to post an update on this as it get's closer.
Orlando Art Gallery
While I still sell originals and prints direct from me, my art is also now available locally at a new gallery located in the College Park area.  Gallery On The Edge offers an array of unique handmade items, fine art, and is connected to a hip retro furniture shop called Atomic Junkies.  Right now they carry some of my originals, limited edition signed prints, and art blocks.  If you love shopping etsy, you'll love this store!
Book Illustration Project
Last month some missionary friends who live in the remote interior of Papua New Guinea asked if I would be willing to illustrate a series of children's books for an ongoing project they are working on.  I'll elaborate on this more on this at a later time, but basically this is what I am working on in all my in between time from what I just mentioned above.
Available Art
As you can see, June filled my year up fast.  As always though, I'll still try to make available original art throughout the year direct from me.  Below are a couple of original works currently available in my etsy shop.  Both girls ship installed in a black wooden floater frame, wired and ready to hang.
"The Early Bird" 16×20 framed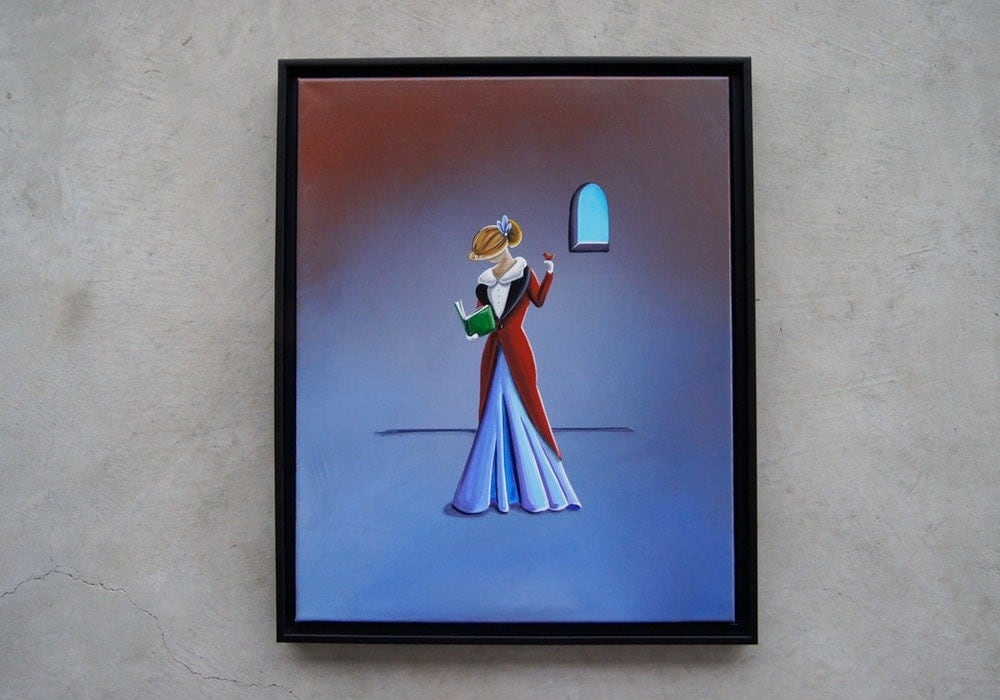 "Let Down Your Hair" 16×20 framed